Back in January of this year (2011) I was on-site at one of our local client offices setting up yet another Microsoft Windows XP system for a dedicated use. That PC is there just for running the United Parcel Service (UPS) WorldShip™ software for the client to enter UPS shipments off-line then batch upload them at the end of the day. Of course that software "requires" a Microsoft operating system to run. (As an aside, It irks me that people have to buy a Microsoft license just to run software like this. When are major companies like UPS going to realize it is in their best interest to create this "free" software they give away to their customers and make it available to run natively on Linux? Please do not start with the "use WINE" comments. If I wanted "Windows" software I would use a Microsoft OS. So would most Linux users, I would bet.) When I was finishing up with the shipping system the office manager asked me about setting up a dedicated system for sharing scanned versions of all their client files. They want to reduce the time it takes to look up client information in their several thousand or so paper client records. I told her I would get some prices together and send her some quotes for that.
If you are a Linux administrator for a Linux/SAMBA file sharing system in a mostly Microsoft based LAN you likely already have an idea about my plan. I put together prices for some dedicated Network Attached Storage (NAS) drives. I also put together a price for what I call our Miniature Office Server or Miniature Desktop PC. A system we build around a Mini-ITX board using motherboards from two different manufacturers and Lian-Li Mini-ITX cases. This system is installed with a limited selection of Linux distributions depending on which motherboard is needed for the end-user's desired purpose. In this case I chose Mandriva as it is my personal favorite and the end-user needs a relatively easy to use and configure Linux distribution.
Be aware that this client has never had a Linux system in their office before now. I have mentioned Linux as a possible solution to upgrade some of their systems from Windows XP, and that is still on the table at this point. After reviewing the quotes our client contacted me a couple of weeks later and said to go with the Miniature Office Server system running Linux.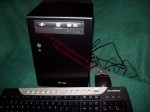 We arranged for the parts and built the system once they arrived. After the system ran through diagnostics successfully we installed Mandriva 2010.2 Linux x86_64 and SAMBA. A minimalist LXDE "desktop" with X was included since this client is familiar with using a GUI to manage their systems. I called and arranged for delivery of the new system and set up a time to deliver.
I delivered the system thinking it would just be used as a file server to share documents scanned from one of the Microsoft systems in the office. To my surprise this system was to be used not only as a file server, but as a "scan station" with a scanner attached and a real live person sitting at a desk interacting with the PC. There had been a break-down in communication between me and the client. But this was easily remedied once I got the idea of what they wanted to do. Had I realized this in advance I would have installed something other than the light desktop that I installed. Probably Gnome would be my choice in this case as the office manager is an OS X user and Gnome has been favorably compared to the Apple GUI by some. Besides, I am still not convinced KDE in Mandriva is up to being ready for production use yet after the KDE 3.5 versus KDE 4.x fiasco that has ensued over the past many months.
Now the project was not just to configure SAMBA shares for their office LAN, but to configure an Epson GT-S50 ADF scanner and get it working on Linux. So I used Mandriva 'urpmi' to download and install Xsane. Unfortunately Xsane did not "see" the GT-S50. I know that Epson drivers for most of their scanners are found at the Avasys web site. So I accessed the site and downloaded the software and drivers for the scanner there. After installing the Image Scan software and testing it all appeared "okay". The following day was for training the young lady that would be using the system. However, once we began using the Image Scan software it was discovered that the page size could not be adjusted. There were no settings in the configuration to change this so a different solution had to be found. The young lady I was to train left as there was nothing she could do until this problem was resolved.
Luckily, now that the Avasys driver had been installed Xsane was able to "see" the GT-S50. I spent some time figuring out how the scanner would work with Xsane and making mental notes about multi-page scanning, as almost all their scans will be multiple pages for client project records. Then made a few tweaks to the SAMBA setup to allow some of the staff "administration" access to be able to rename and delete documents as needed. Everyone else got read-only access.
The following training day arrived and we began again with training on the new system This time, things went much more smoothly. The only glitch with Xsane is it apparently does not have a way to use the dual-sided scanning capability of the GT-S50 scanner. However a work-around was developed that would be satisfactory when using Xsane's multi-page scanning feature. Then one other problem cropped up. Some of the directories created on the Linux side were showing up in the old, broken DOS 8.3 format on the Microsoft systems. This turned out to the a name mangling problem with the version of SAMBA used and ending a directory name with a period, such as "Acme Explosives Co." The simple solution is to not end directory names with a period, and that is what was decided. The only item left to be decided is how much extra drive space may be needed in the future to store thousands of the scanned documents stored as PDF. Of course the eSata ports, shown in the picture above, will be put to use in the event more than the 400 GB available is needed. Logical Volume Management will be used to seamlessly add new storage to the existing storage.
There you have it. A Linux based solution to an office need in a real-world environment. No need for expensive, and/or proprietary, and/or freedom killing sofware. Further, this PC can easily expand its role to include document creation and editing with any of the several word processors available on Linux. Or it could be used to create and edit graphics using The GIMP along with the scanning capability of Xsane. Essentially almost any task that does not require a proprietary Microsoft operating system can be done with this PC. I will let you know if this system gets retasked in the future. In the meantime, feel free to add your comments about other small business Linux solutions that you have done.
Notice: All comments here are approved by a moderator before they will show up. Depending on the time of day this can take several hours. Please be patient and only post comments once. Thank you.
Edit Thu Feb 24 12:55:57 CST 2011: Fix a run-on sentence.