Are you in the market for a new laptop, desktop or server PC with Linux installed? Please give us the opportunity to quote a preloaded Linux laptop, desktop or server system for you.
By the way, if you did not read my previous article, Open Source Horror Story – A Linux Recovery Tale, you do not know what you missed. Basically the article is about recovering from a failing hard drive after an attempted upgrade of Mandriva to the 2011 release. The article is written in 3rd person from a story teller's point of view. It has some good information in it for those of you who may find yourself in a similar situation. Go have a look, and make a comment if you wish. Okay, enough about that, on with the new article.
As of today I find myself in the position of deciding whether or not to stick with my previously preferred distribution, Mandriva Linux. This is a bittersweet realization for me. I found Mandrake Linux several years ago in the early 2000's, about the time they were working on coming out of bankruptcy. When I saw and understood the command-line urpm* package management tools for the first time I immediately "fell in love" with them. In my mind those tools were, and still are, one of the best package management implementations in all of Linux. At that point, Mandrake Linux became my distribution of choice. When Mandrake merged with Conectiva and reorganized to become Mandriva, I stuck with Mandriva. When Mandriva narrowly avoided another bankruptcy, I stuck with Mandriva. When Mandriva development seemed to be imploding and many developers left or were fired, I stuck with Mandriva. Now Mandriva 2011 is out, and Mandriva seems not to be "sticking with me".
My preferred "desktop environments" for X on Linux are in this order: fluxbox, XFCE4, WindowMaker. Notice something? You got it! Those are all "light" window manager / desktop environments, a category that does not include KDE or Gnome. I have never been a fan of desktop environments that are more resource hungry than most of the applications I want to run. I am even less fond of the direction both projects, meaning KDE and Gnome, are taking with their current DE implementations. I stick with minimalist GUI implementations such as those mentioned in the first sentence of this paragraph. Now with the release of Mandriva 2011 I see this disturbing, to me, tidbit on the Mandriva Linux 2011 Release Notes:
Deprecation

GNOME, Xfce and other Desktop Environments (DE) and Window Managers (WM) are no longer included in the official Mandriva packages. Contribution packages from the Mandriva community are available for these desktop environments however. Starting from Mandriva Desktop 2011 only KDE Plasma Desktop is officially supported. If you need Mandriva with another DE or WM you can use unofficial packages or distributions prepared by community members (which are described below).
Wow. Does that suck or what? I have seen the new ROSA interface for KDE on Mandriva 2011. All I can say about it nicely is, "That is not for me." The new community driven Linux distribution called Mageia, which is based on Mandriva 2010.2, has my beloved urpm* tools and will still "officially" supply / support fluxbox, XFCE4 and WindowMaker. Not only that, but after having had to do one fresh Mandriva 2011 install after a problem with a failing hard drive, I found out I have a strong dislike for the new Mandriva GUI installer. I really prefer the older Mandriva installers that work like the one in Mageia 1: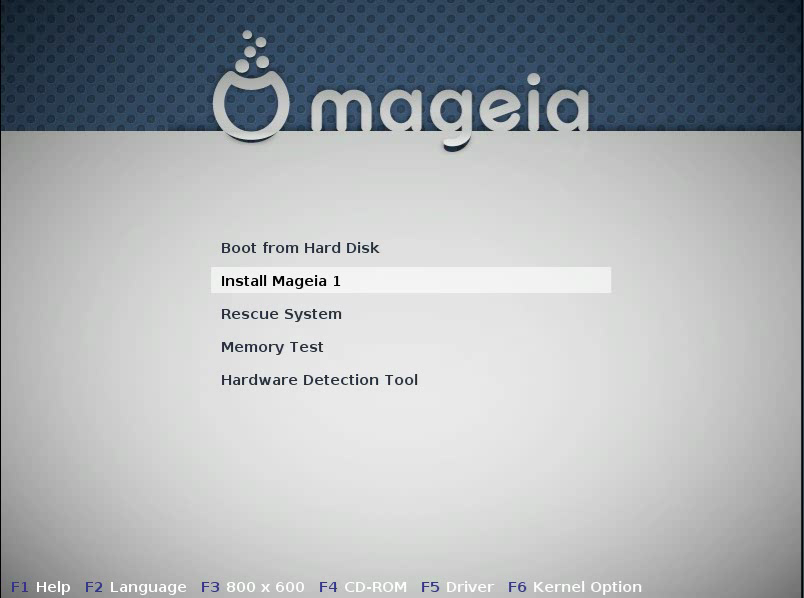 OGG Theora Video best viewed in Firefox.
Finally, Mandriva 2011 is to the point of switching from sysvinit to systemd for bootup. Yes, one can still run sysvinit with Mandriva 2011. But since sysvinit in Mandriva 2011 is deprecated I suspect it may become broken with subsequent updates. My suspicion may turn out to be wrong, but why should I take the chance? While I understand systemd on Linux is probably the future for us all, I am not yet ready to switch. Mageia 1 still uses sysvinit for bootup at this point with systemd possibly arriving with Mageia 2. This gives me a bit more "wiggle room" to learn about systemd before I take the plunge into using it on my systems.
Due to all of the above, but specifically the DE part, I am now seriously considering a move to Mageia. In fact, while writing this article I have convinced myself it is time. I am researching my needs in anticipation of switching to Mageia this very weekend in fact. By the time you read this article I may already be in the middle of a distribution switch or finished with same. Once I do switch and have a chance to become more familiar with Mageia I will begin writing about that distribution here on The ERACC Web Log.
Obviously, my choices here will not be the choices that others will make. Regardless, I am hopeful the information I give here may help someone else with his or her own decision about a distribution to choose.
Discuss this article on: