Update October 2011: I have left Mandriva due to problems with its change in ownership and direction in late 2010. The Mageia Linux distribution, a Mandriva fork, has all the things I liked about Mandriva, but none of the management problems that are affecting Mandriva's quality. The points I make in this article in regard to Mandriva also apply to Mageia. My company now promotes Mageia Linux as our primary desktop Linux solution. We have offered Linux pre-loaded computers for several years now with choice of any of the "Top 20" at DistroWatch. Mageia is added to those choices.
For some time now I have watched Canonical grab headlines touting its 'buntu releases, such as Ubuntu and Kubuntu, as "newbie" friendly. Much of the IT press goes along with this marketing scheme. Quite frankly, I am happy to see Canonical get attention for Linux in general. Getting more positive exposure for Linux is always good. Even "unfriendly" or "negative" exposure is good for Linux if one looks at it as simply more exposure. The people spreading Fear and Uncertainty through Disinformation (FUD) about Linux are simply helping to spread awareness of Linux. Good for them! Let us all pray they keep doing that. Not everyone hearing or reading FUD is going to take it at face value. Those that do not take anti-Linux FUD at face value are more than likely to become Linux users in the long run. The fact that almost everyone in the IT press and in the IT industry is aware of Linux or talking about Linux is excellent. Much of this exposure is due to Canonical and Ubuntu.
But, all that said, is Ubuntu truly the "best" new user distribution? Well, no, not really. (Wait! Before you tar and feather me, read the rest of this article.)
What one can objectively say is that the 'buntu lines are new user friendly. However, the word "best" is highly subjective when applied to any man made creation. I submit that there are several, equally good, new user Linux distributions. The other new user distributions I would personally recommend in my order of preference are:
I am sure many will have other new user distributions to recommend and may argue against my choices. Debate over distributions is one thing that is not in short supply in the Linux community. However, I am going out on a limb to state that Mandriva Linux is easily at the top of the list of new user distributions. I am confident that this assertion will hold up under scrutiny once I make my case.
The Mandriva team has put a great deal of effort into making Mandriva easy to install and easy to manage from a new user perspective. For a small walk-through of a Mandriva 2010 installation using VirtualBox see this article at ghacks.net. One may take my word for it that Mandriva 2010 is easy to install, or one may get a Mandriva Linux One 2010 Live CD ISO or a full Mandriva Linux Free 2010 DVD ISO and try it out for oneself.
Caveat: all Linux distributions are likely to have problems with some proprietary WiFi chips on some laptop and notebook PC systems. I strongly suggest you Do Your Research before trying to install on your own laptop or notebook PC.
One excellent feature of Mandriva Linux is the Mandriva Linux Control Center (a.k.a. MCC) which has an X GUI version for the true novice and a text mode command line version for the not so much a novice or the true novice that needs to fix a broken X. A novice Linux user may manage Mandriva fairly well just using the MCC GUI. Here are screen shots of the GUI version of MCC in Mandriva Linux 2010 (clickable for full size versions).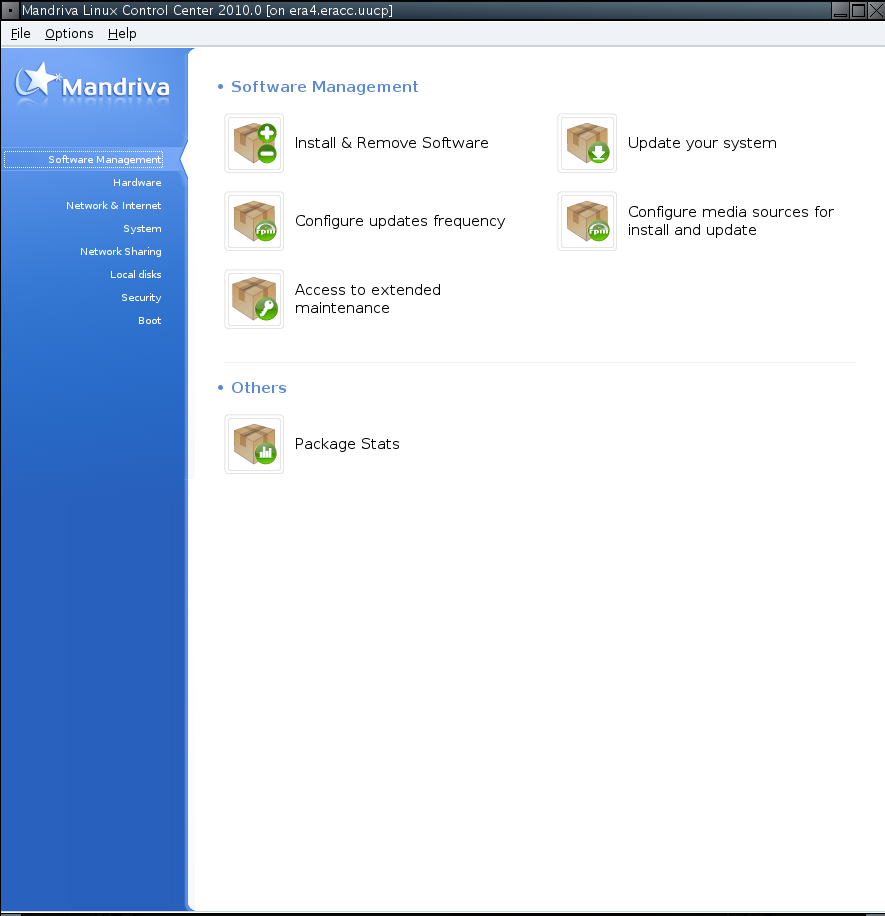 The software management page makes it extremely easy for the new Linux user to manage the software on his desktop PC. Yes, there is some learning involved in using this software management system. For one thing, the first thing I do and recommend on a new install of Mandriva is to remove the default package sources and add preferred sources from http://easyurpmi.zarb.org/old/ on the first reboot following installation. While this is not necessary in most cases, it does help when one learns which sources are updated faster than others and are more reliable.
The need to learn new things is true of any new operating system. I would include learning Microsoft Windows 7 in that list for those that are migrating from Microsoft Windows XP. If one is going to have to learn a new system anyway by a jump from XP to W7, maybe it is time to give Mandriva Linux a try.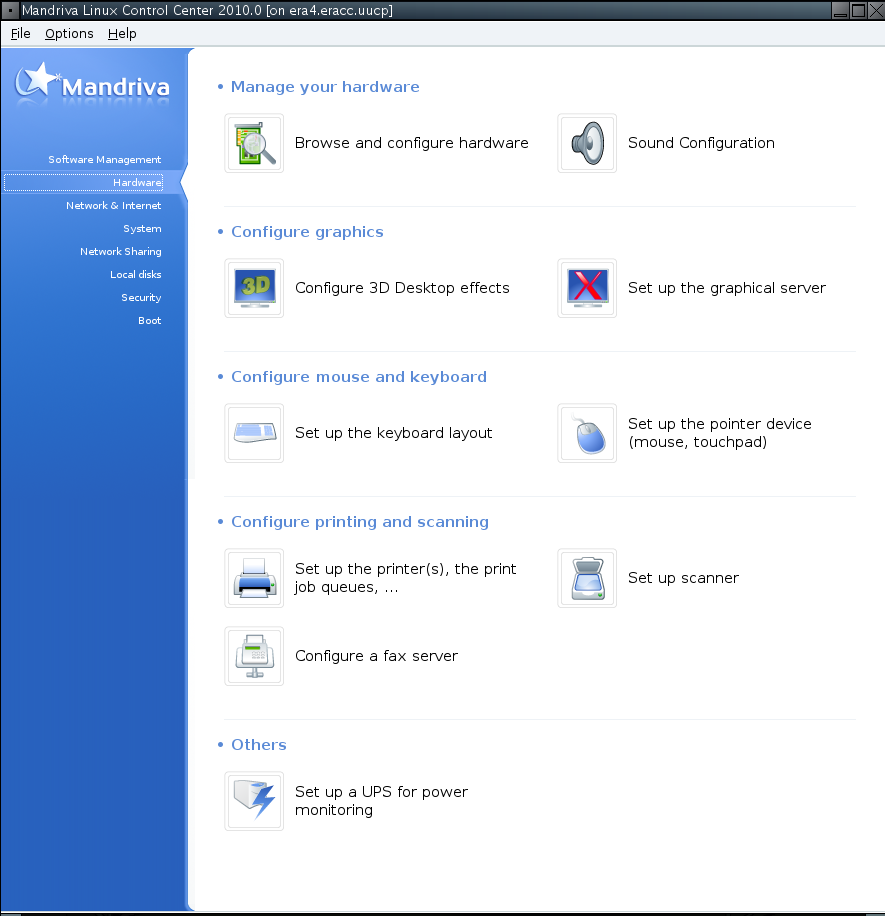 The Hardware Management Page makes adding printers and scanners a snap for the new user.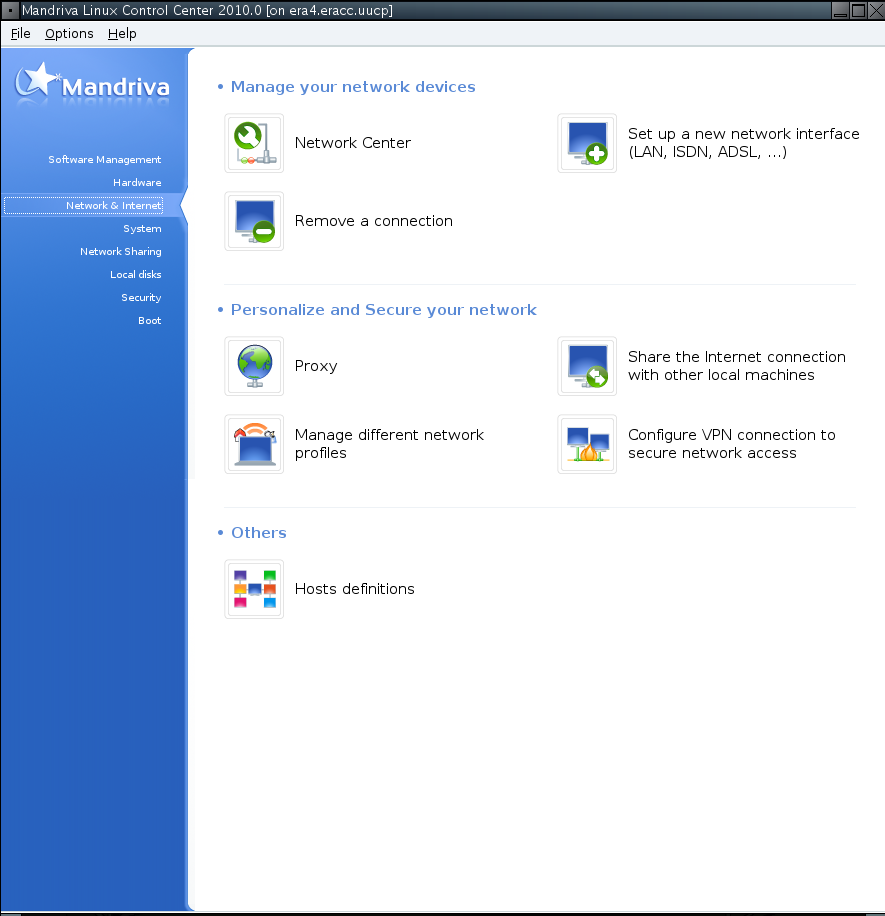 Connecting to a LAN or to the internet is made fairly simple with the Network & Internet Management Page.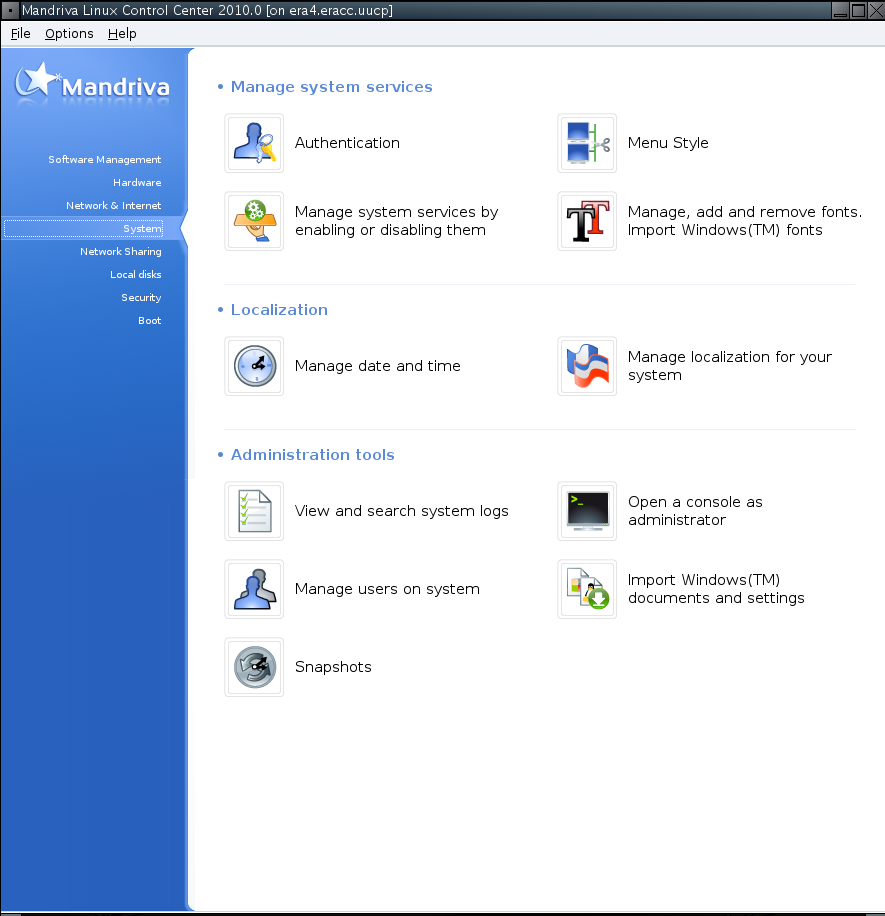 I think the options on the System Management Page are self explanatory. If in doubt, install Mandriva Linux 2010 and look it over for yourself.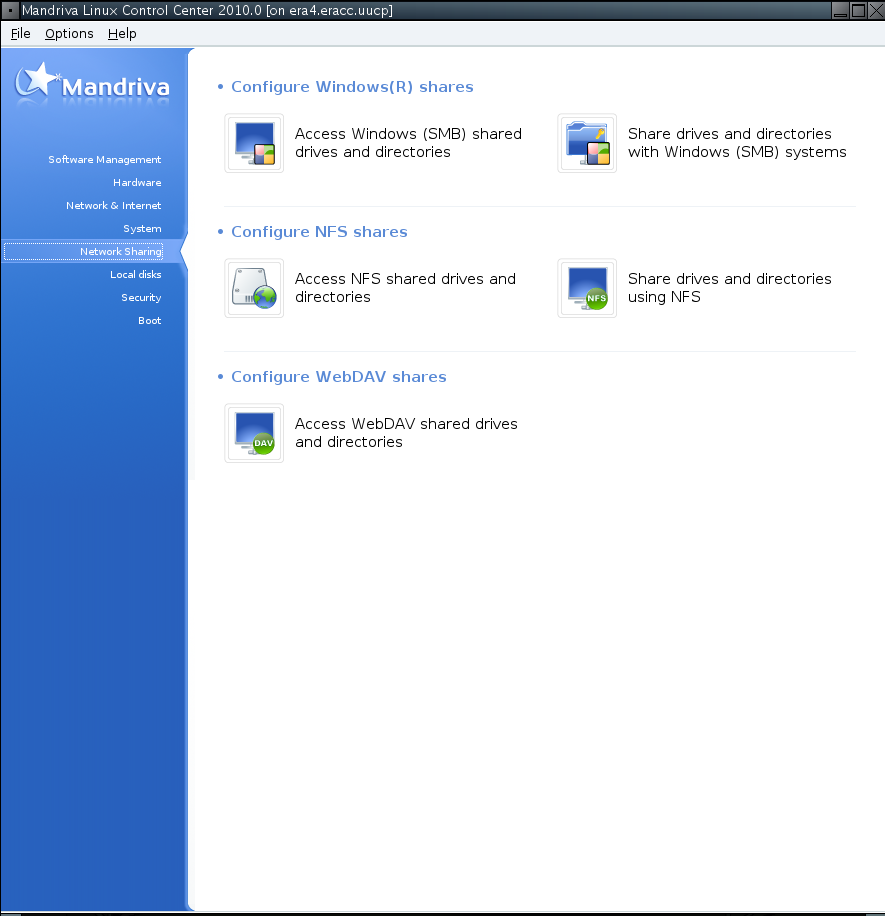 Need to share files in some of your directories? Need to connect to some shared directories elsewhere on your LAN? The Network Sharing Management Page is the easy choice for the new user.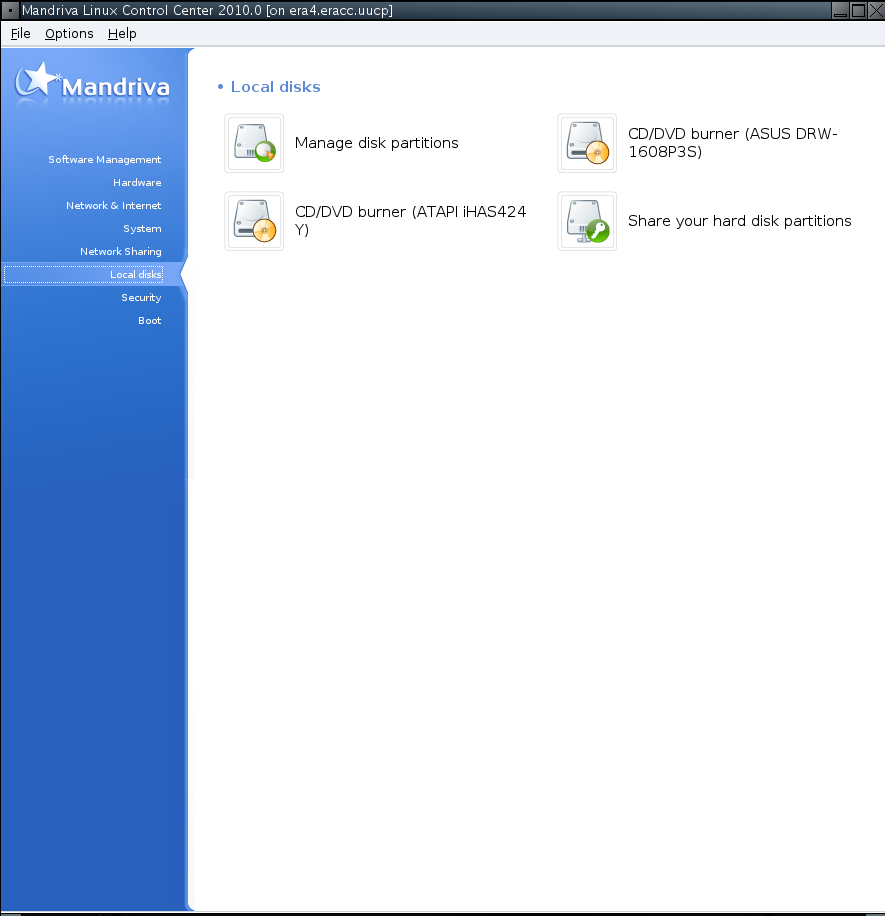 Disk management under Linux made easy. If you just installed a second hard drive that you want to use for data storage (Think of all those digital pictures you take.) then this page is where a new user can go to set up that new drive. The "Manage disk partitions" section is where the magic happens for that.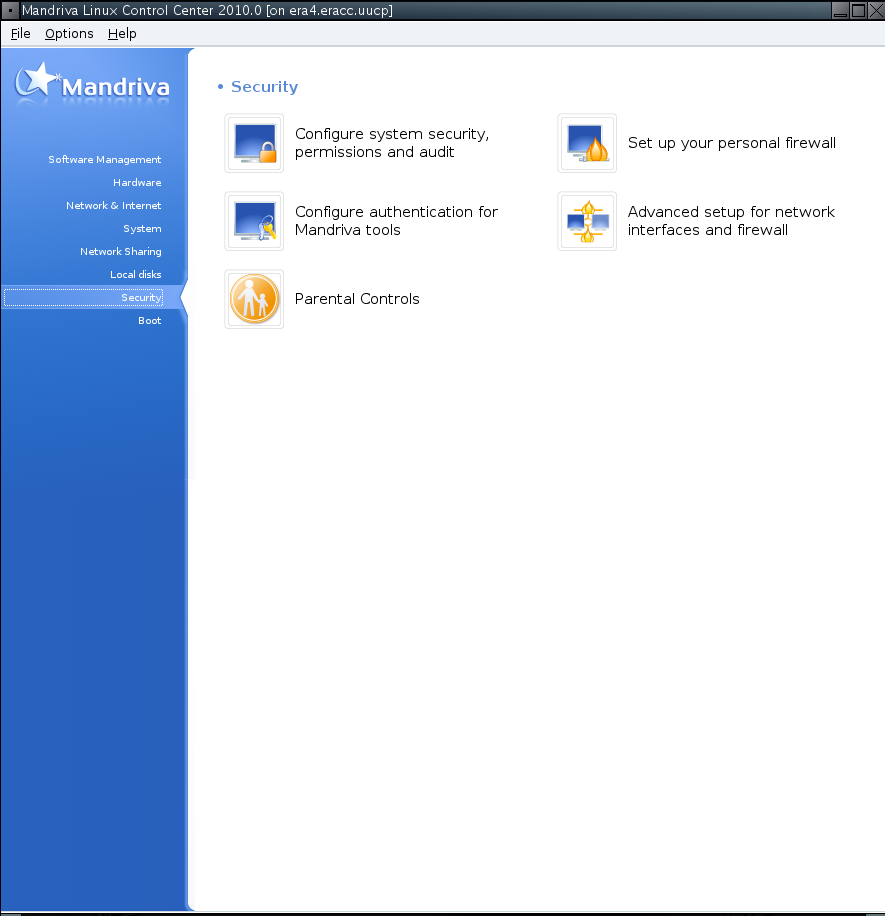 Want an easy way to manage the firewall on your Linux PC? Look no further than the "Setup your personal firewall" section of the MCC Security Management Page.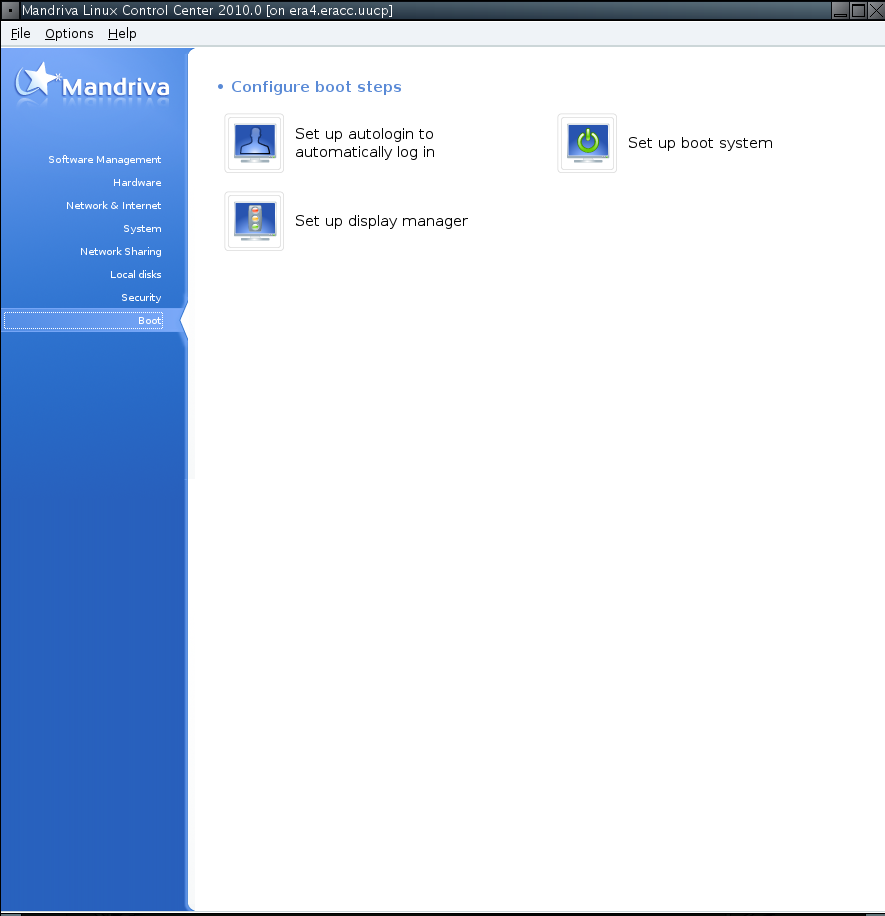 While the MCC Boot Management Page is not likely to be needed often by new Linux users it makes managing the boot settings of a Mandriva Linux system extremely easy. Yes, one should know a bit more about boot setup before diving into this but this page still makes managing Grub or LILO a fairly easy task.
Here is a screen shot of the text mode version of MCC one can run from the command line: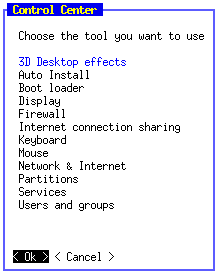 Mandriva requires that MCC be run as the root (administrator) user. Thus one must know the root password to access these controls. This means that the Mandriva distribution may also be easily deployed in a locked down state for business use where the end-user has no knowledge of the root password. A novice Linux user that installs on her own PC or purchases a PC with Mandriva pre-installed would need to learn to keep the roles of user and administrator separate with separate accounts, as the Unix gods intended.
Okay, I can already hear some of you Linux cognoscenti stuttering, "BUT… BUT … BUT this just teaches a new user how to use Linux the Mandriva way! They need to know The Linux Way!" I agree, to a point. Many a new Linux user needs a way to get started in Linux without needing to learn everything from the start. These graphical tools provided by Mandriva are one answer to this problem. Not all new Linux users are going to need to, or want to, learn the guts of Linux and how to do everything The Linux Way. These folks will learn the Mandriva tools and probably stick with Mandriva. The 'buntu users will learn the 'buntu tools and probably stick with 'buntu. This is okay with me. It should be okay with you too. After all, we tout "choice" as one reason to use Linux. Therefore we should honor the choice of these users to do things as easily as possible, for them.
In any case, the Mandriva distribution provides an easy to use graphical interface for the novice Linux user to manage her Mandriva Linux PC. I know, I know, I know, other Linux distributions have similar systems. In my subjective opinion, the Mandriva Control Center is the most well done of those I have seen personally. This places Mandriva at the top of my list for new user Linux distributions. If you are a long time Linux user and disagree then please feel free to post a polite comment with your reasoning. After all, you deserve to be heard as much as I do on this matter. 🙂
This many unique visitors found time to see this article:
Notice: All comments here are approved by a moderator before they will show up. Depending on the time of day this can take several hours. Please be patient and only post comments once. Thank you.